Why Ontario Transmission?
Family owned and operated, Ontario Transmission has been providing businesses and families with honest service and quality work since 1957. We operate in a friendly atmosphere where our experienced technicians specialize in servicing manual, automatic-overdrive and four wheel drive transmission of all makes and models.
Our bilingual staff operates in a modern computerized facility, and our workmanship comes with a 1 year / 20,000 km warranty. For an additional fee, an extended warranty can be purchased. We offer free local towing with any major repairs. We also offer free shuttle services.
Ontario Transmission is fully dedicated to bringing you the highest quality, state of the art transmission repair.
Our hours of business are Monday to Friday from 7:30am to 5:30pm.
Hoping to be of service to you in the near future.

Transmission
We have specialized experts on site to help fix any of your transmission needs. From automatic, manual and clutches… Ontario Transmission has you covered!

Auto
Our team has a wide range of automobile repair experience. Contact us with the issues you are having and one of our technicians can provide you with a price quote.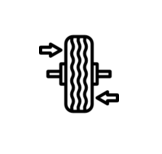 Specialists
Transmissions are our specialization! We have been successfully serving transmissions in Ottawa since 1957.
They provide absolutely amazing service! My car now runs better before than it ever has! Ontario transmission is a team I can trust. I would recommend them to any of my family and friends without a doubt. I'll be coming back here 100%.
Cory Leger
My transmission blew and I had no idea where to start. The team at Ontario Transmission were incredibly helpful and able to get my back on the road before the weekend. After all of my research, they also provided me one of the best prices I could find!
Matt Williams